Swirls is a dating website to meet people who are different in terms of skin color and culture. This platform is frequently mistaken with a dating site for people of color, which is wrong, as it welcomes all ethnicities. 
So, whether you like Chinese, Pakistani, or simply black fellows, Swirlr can help. It is not a hookup site, but a space to find love and meet singles who live abroad. If you are American and you find the African culture attractive, Swirlr has much of it. 
Due to this, Swirlr has a huge database, but it is very simple to use regardless. It doesn't have a host of tools that flood it but the necessary tools and features for people to communicate. However, it lacks an app. 
Swirlr has been in the business for over 15 years, bringing people together and creating marriages. While you need money to utilize it, Swirls is legit and safe, and nobody can doubt it. 
Keep reading to find out more about Swirlr, which is mistakenly thought to target only black singles.
Member Structure

Swirlr is a community that embraces all races, not only black women and white men. At first, you may find the purpose of the site confusing, but with the passing of time, more and more ethnic groups have partaken on Swirlr, making it no longer exclusive to the white and black community.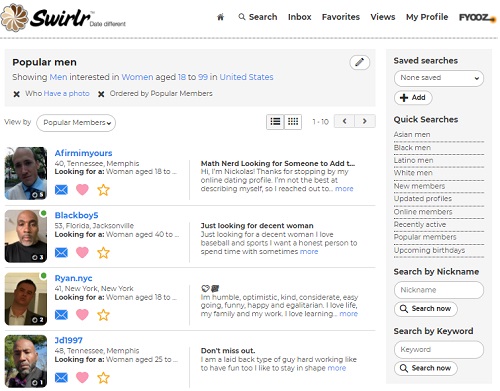 Also, there was a misconception concerning the gender proportion, since the site seemed to connect black women and white men solely, and not otherwise. The main page hints it helps women of color to date whites, but that's not entirely true.
Swirlr is an interracial dating site, which means it encourages the relationship among all ethnic groups without distinction. The age range of members benefits Millennials and baby boomers, ranging from 26 to 44 years old.
It is a fact that a larger part of the community is from the United States, but it is also possible to interact with individuals from other places. The predominant races are black and white, yet lots of Latin singles are also joining.
Owing to the nature of the site, there are also people from Africa, more specifically from the big cities of Kenya.
Signup Process

The signup process is pretty straightforward and does not have complicated steps. Once you enter Swirlr, look at the right upper corner and click on Join for free button. Registration has no cost on Swirlr. 
After clicking, it redirects you to a new tab, where you have to select your gender and the gender you are seeking. Then, choose the type of relationship. Swirlr is a dating site that offers friends, long-term relationships/marriage, pen friends, and dating / romance. 
Picking the ethnicity is the following step of the registration process, and it is very interesting. You can tick one or all. Feel free to do as you prefer. 
Swirlr offers a variety of ethnicities, some of which are not commonly heard by daters. The site has Pacific Islanders and East Indians. If you are American, tick Native American. Swirlr comes to be a great space for Latin American singles as well. 
Swirlr hasn't included other genders in the registration process, but you can choose your gender and click to seek people of the same gender to have same-sex connections.
Step 1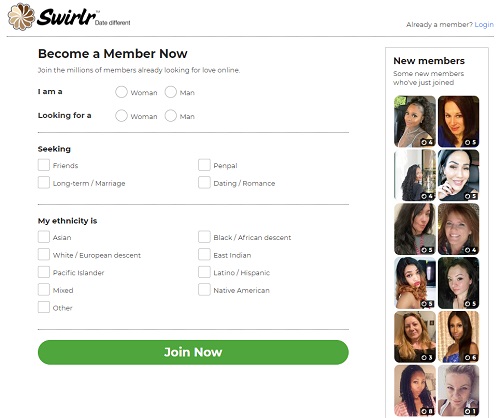 Step – 2


Step – 3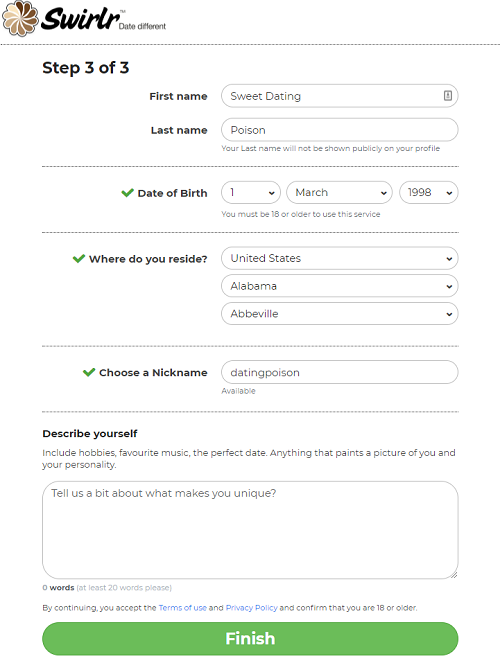 Making Contact

The site puts restrictions on instant messaging, as this function is billed as other features. To send private messages, get a paid membership, otherwise, you will only be available to send winks. Swirlr has many features, but it is easy to use. 
The first feature to contact singles involves sending winks. Search for singles using the Swirlr search tool and then if you lack credits, send them winks. Once your account is upgraded, you are allowed to engage in a more personal conversation. 
The portal offers an email service to send and receive emails. Apart from that, it enables you to go live on video chats and send text. Video chats are great because they allow meeting people through the cam before the first encounter.  
You can send messages as a free member, only if somebody contacts you first. You are allowed to reply without upgrading, however, a premium subscription is much better for immediate chats.
Mobile Apps

Swirlr doesn't have an app, but it provides a quality experience through its desktop version. The platform hasn't been in the need of an application yet. When looking for the mobile app, do not enter "Swirl" on Google because that's another dating site. 
The mobile version showcases the same features available on the desktop format, but it has larger images that do not make it eye-straining. Profile details are shown below each picture, just like they appear on the PC version. 
Profiles display the number of pictures uploaded as well as the user location (country and city), age, and bio. To see the bio, you must sign up first. 
It is faster to register on Swirlr as the first options that turn up are "Search Now For Free", Join Free, and Log in. Once you're out of the site, the account logs off. 
Swirlr won't take any of your Facebook pictures if you sign up through it.
Pro & Cons
Pros 
It is simple to use. 

The registration is done in a matter of clicks. 

It promotes the interracial connection, banning discrimination and breaking stereotypes. 

It opens the door to all kinds of communities including the ghetto, white, Asian, Latin, and African ones. 

The site makes it easier to date people who live in very far nations.

A nice and convenient age range of members. 

Swirlr prioritizes meaningful connections instead of casual dating. 

Most of its members are real and well-educated. 

Video chat and email service. 

A great portal to meet locals and singles from other places. 

It contains tons of enticing success stories that boost the site's credibility. 
Cons 
No application. 

Despite it welcomes everybody, English is almost the only language that people speak on the site. 

Too many features that are limited to monthly payments. 

Swirlr is not intended to offer sex or one-night stands. 

While it houses people from many countries, it is hard to date somebody out of the States.
Price

Swirlr is a paid site with rates that are low. The site has three plans: a one-month plan that costs €17.95, a three-month subscription for €34.50, and another one that covers 6 months for €59.95. As you see, it is neither cheap nor costly. 
Registering and navigating the platform is completely free. Once you register, Swirlr allows you to check out the profiles and functions without a limit of time. If you find it necessary to become a paid subscriber, you can upgrade your plan down the line. 
As a free member, you can send winks to make contact, while features like video chat and instant messaging will remain blocked.
There's something to note here. Swirlr provides the ability to reply to messages freely, even on a free membership. This is something that does not exist on most dating sites. 
Below is the overall pricing at Swirlr Dating app:
€17.95 for 1 month;

€34.50 for 3 months;

€59.95 for 6 months.
Special Features

Swirlr is a paid site, so forget about using it and chatting with everybody without paying. Although it is paid, Swirlr is flexible and has very interesting features that increase the value of premium plans. Some of them are:
Text chat: chats are all over the net, so we can't say this is a unique feature, however, for a small amount of money, Swirlr enables you to send messages limitlessly. 

Video chat: it allows you to see the person you are contacting, which is advantageous. 

Favorite: if you find a member attractive, mark him favorite. This option is available on profiles. 

Who's viewed my profile: you can see who has visited you and who you got the attention from.

Who is Online: it allows seeing the singles online. That way, you know whom to message and whom not to. 

Recently active: if you are on the hunt for a specific member, this feature lets you check when he was last connected.