BDSM.com is a BDSM, bondage and fetish dating site created for adventurous singles, couples, groups, and webcam models. It doesn't have too many features, but the ones it has are very interesting. BDSM promotes respect towards other genders that are not straight. It is also available for smart devices only through mobile browsers. In this article, we're going through the niceties of this premium site. 
BDSM.com Member Structure
BDSM can be only compared to sex apps like Victoria Milan and Heated Affairs, ranked in the third position among the three with a user base of 520,000 people from the USA. The site generally reports more than 60,000 active members weekly, and women are more active than men.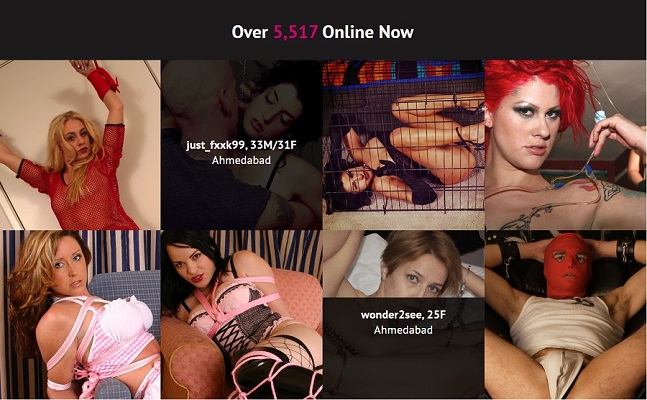 In the world, it claims to have more than 3 million members, 170,000 of which enter the site on a weekly basis. You must be able to communicate in English since most visitors are from the United States and the United Kingdom. Most users are males, and over 25 years old. On BDSM, you won't see singles only but also couples and groups mostly straight.
Most users are from the USA.

Women are proportionally more than men.

English is the main language. 
Signing Up at BDSM.com

You must be 18 years old or older to join BDSM. The registration process will not take you so long, but 5 minutes, maybe 10. After you register, you won't see matches, and a message will be sent to your inbox for profile verification. BDSM.com won't ask you to use your Facebook account. 

Many would find the sign-up a little complex process, but the truth is that it won't take you more than 10 minutes. You have to fill out five forms for the registration completion. The first form will require you to submit information about your sexual orientation and preference. In this section, you also specify if you're an individual or a couple. The other forms are more related to your sexual orientation and fetishes. 
Only for people aged 18 years old or older.

There are five forms to fill out, but they are very easy.

If you are gay or lesbian, welcome. 
Related Blog: Top 10 BDSM Dating Sites & Apps for Masters, Mistresses in 2020
BDSM.com  Groups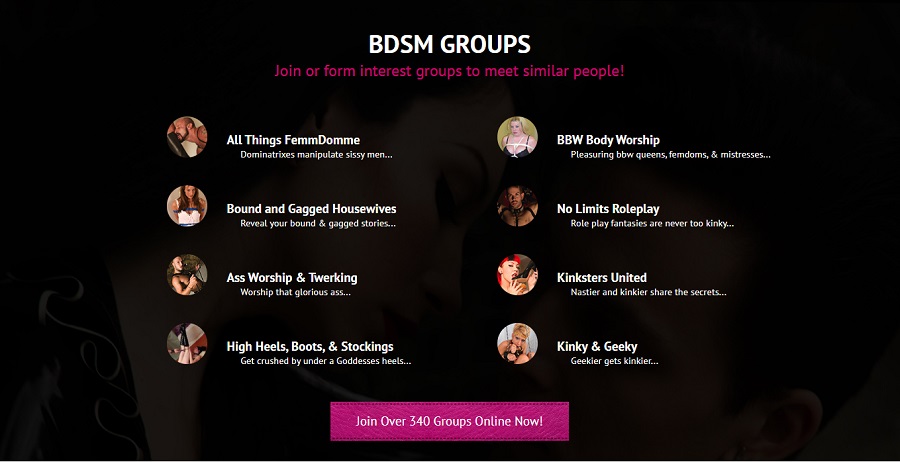 Join and meet the best groups to meet people like you.
BBW body worship
All things femmDomme
Bound and gagged housewives
Kinksters United
Ass worship & Twerking
High heels, boots & stockings
Kinky & Geeky
Making Contact on BDSM.com
You're not allowed to send messages without a Premium account, but if you receive a message, you're allowed to reply to it. Joining chat rooms is completely free, as well as browsing basic and advanced search, which can be added to the Hotlist. BDSM also offers an option to chat with models privately and join groups and forums for free. 
BDSM can be enjoyed with a standard account. The following are the actions you can do with it: 
Instant messenger: the instant messenger is free and gives you the possibility to get on cam and broadcast live shows.

Chat rooms: the best way to chat with members at once.

Direct messages: this feature can only be used by paying members. 
Profile Quality on BDSM.com
BDSM profiles are very detailed and usually checked by moderators on a regular basis. Once you complete your registration, you can edit the information anytime you wish. If you want to view top members, you will need to upgrade your account. This will enable you to also view full profiles. Your account will be approved in a period of 24 – 78 hours. 
It could be contradictory, but only premium users can browse profiles of premium members. BDSM moderators are constantly checking the activity of users to ensure they act accordingly. You will also need to upgrade to premium to view full-sized pics. You won't need to input the same information once again to customize your profile. 
And what does a BDSM profile include? It includes your location, physique, and username you prefer. Then, come your orientation, education, occupation, marital status, and the languages you speak. Besides, there's a section divided into various tabs to upload more content like pictures and videos. 
Standard members can only interact with live cam models since they are not allowed to see others. 
Standard members can only interact with webcam models, not with regular users as such.

The profile is easy to modify.

You can add more pictures and videos to your profile to make it more attractive. 
BDSM.com Mobile Apps
Unfortunately, no mobile app is available, but you gain access through mobile browsers. The site maintains the same colors and looks like the desktop version. Very few people have reported issues navigating the site, except for the ads that pop up unexpectedly. Nevertheless, there's no doubt the interface is cool and responsive. 
According to reviewers, the mobile site design doesn't look as outdated as its desktop counterpart. This is because it contains less text and uses more icons, making it much clearer and less wordy. 
Not a downloadable app.

The site is easy to navigate despite it doesn't have an app. 

The mobile site design is far from wordy. It is pretty clean. 
BDSM.com Real Life Review
"The people who made this site clearly want their customers to enjoy their time on it, and they really take care of you if you ever have any issues. They can get them fixed up quickly and easily for you." – Mike Tom, 2017
"This site is well designed and is very fast to use. No issue with any of the features that they offer, and I can easily move from group to group and find people to talk to and think about meeting up." – Matthew, 2017
review content source: reviewsdatingsites
BDSM.com Plans & Price
There are two types of memberships you can register to. The first one is the Silver membership, with prices ranging from $8.33 to $19.95 a month. It is important to make clear that the silver membership has a period of 1, 3, and 12 months. The latter costs 99.97USD.
As for the Gold membership, the same applies but with different pricing. You pay $29.95USD for one month, 59.97 for three, and $149 for the whole year. Not bad. 
There are adds-on that allow purchasing standard contacts for one month.

The silver plan gives primary access. 

Only paid via credit card. For your discretion, the statement will not reflect your subscription to the site.