Member Structure of Alt.com
Believe it or not and according to my perception, Alt.com doesn't have a very large membership in the United States. It only has 415,000 users from the USA and 80,000 of them are active. Speaking of the gender proportion, 20% are women while 80% are men. Most of its users are fond of sexual fetishes, role-playing, bondage, and BDSM. 
Read More: Top 10 BDSM Dating Sites & Apps for Masters, Mistresses in 2021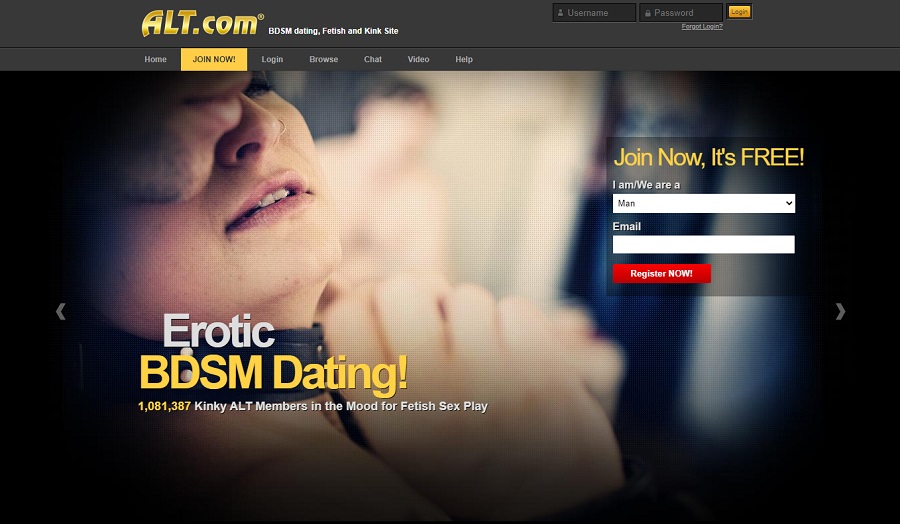 Clearly, most members are men. On the other side, there are not only visitors from the United States, but also from other places like the UK and Canada. The drawback is that ALT.com is reported to have many fake profiles. The active members that are actually real people are 25-34 years old and are BDSM lovers.
It is important to say that many of the ALT.com subscribers are curious and about bondage and fetish sex. Do not expect to encounter singles everywhere because this social network is not only for them. 
What you'll see there are individuals, groups, and couples willing to experience something different in bed. These people usually love role-playing and there are submissive and dominant players. 
But ALT was not solely created to promote fetishism, but also any kind of sex dating. This means ALT members do not look for anything else but no-strings-attached sex on this site. Both men and women seek to satisfy their peculiar sexual kinks. 
Signing Up

Registering on this website doesn't take more than 5 minutes, although the entire sign-up process involves 5 steps. These steps are crucial to be able to create an ALT profile. 
Joining is free and it is important that you specify the gender and marital status. It is clear that this website is also for cheaters. 
After that, you have to provide further details about yourself like your age, sexual orientation, body type, marital status, and the role of your preference. 
Additionally, include a short bio regarding your likes and other ideas that describe other aspects of your lifestyle. 
Making Contact

There is an array of contact options on ALT. com Not only are you able to chat with models for free, but you can also strike a conversation with girls that are not models, and live near you. 
Likewise, the website gives you the option to send friend requests or add them to the Hotlist. There are webcam models offering shows at ALT all the time. 
Yet, a standard membership may get you bored in less than a week. The problem is that as a free member, you cannot make the first contact nor read your messages in your inbox. 
On top of that, you can't send flirts and virtual gifts. The only way to do it is by obtaining a premium membership or joining chat rooms. If you want to chat with others, join a chat room.  
Profile Quality

When you register, it is important that you add the details that are required. Once finished, you can update your details anytime. Try to make it as informative as possible by including information that would sound weird to you. Are you circumcised? Put it there. 
As an adult BDSM, it will ask you to specify which level of BDSM you are. Some profiles display their MSN, ICQ for better contact. This is an ALT strategy to prevent fake profiles 
The site may also ask you to submit your testimonials (if you have), social networks, and bling. Needless to say that ATL is a space to be straightforward about kinks and eccentric preferences. This platform provides a chart to submit this kind of information. 
Real Life Review of Alt.com

In all fairness, the website has a bad reputation. In most of the dating site review platforms, ALT seems not to meet the expectations of most users, especially for their way of charging for the memberships. Nevertheless, there are reviewers that think differently and are content about the service. Let's read some of them:
"Worked ok for me. Been using Alt.com for a period of three months and actually hooked up with several guys in my area. It sure ain't a scam. I personally prefer Justhavesex.com or Fetlife.com as it seems that there are more members in my area. So usually just use those two sites. But decided to give Alt.com a try and also worked ok for me. It simply ain't true that all profiles are fake!!!"
Content Source:  TrustPilot  (Read more reviews)
"I have used tons of BDSM dating sites and it is really hard to find a good one. In my opinion, there is only one legitimate BDSM dating site out there is ALT.com! Another good option is JustHaveSex.com but it is not a BDSM dating site. Still, you'll find much of kinky people.
What makes ALT.com one of the best or maybe the best BDSM dating sites is that it is really huge with millions of members. I think you won't find any other BDSM dating site with a comparable number of users."
"Unauthorized Card Charging. Beware
Turned off auto-renew after last year's charge. Did not know it existed, So wore the charge. They got me. Scammers have fraudulently turned it back on and charged me again. After some emails back and forth, The charge has been refunded." (Tyle Harbour – Australia)
Price of Alt.com

There are not too many things to say about ALT free services. There are many free services you can enjoy, some of which are:
Registration, uploading a photo, joining chat rooms, flirting, add as friend, add to hotlist, hot or not, Search, Kink Search, Live Member cams.
Paid services and membership options
Silver membership
1 month: $19.95USD
3 months: $12USD /month —  $37.99
12 months: $8.33USD/ month — $99.97USD
Gold membership
1 month: $29.95USD /month
3 months: $14.99USD / month — $59.97 USD
12 months: $8.33 USD / month — $149.97 USD
Payment options: credit card / check. Debit cards are not accepted.